The roots of the Sawdust
In the mid 1960's, the culture in America changed dramatically. Personal freedom of expression broke out among the nation's youth, including a vibrant arts and crafts movement. Here in Laguna Beach, that creative energy brought together an influx of young artists. Fueled by a passionate desire for artistic independence and wanting something fresh and exciting, the Sawdust Festival was born.
"Born in the late 1960's, the Sawdust was a child of the times. It was much more than a place for artists to show and sell their artwork. It was a happening; a beautiful, colorful collage of people creating a unique environment where nothing of its kind had existed" – Mike Heintz
Finding Our Groove
1965-1970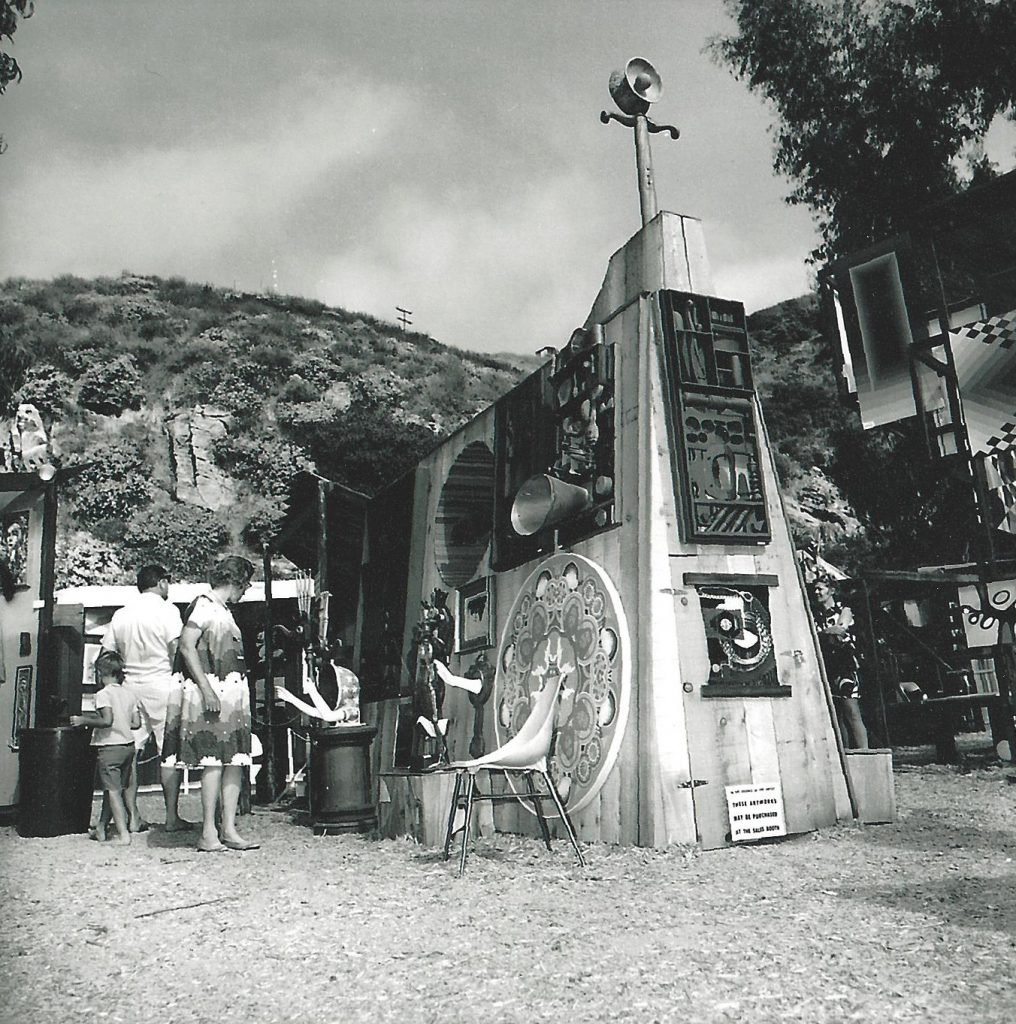 In 1965 our first show was held on the Peacock lot near Coast Hwy. In 1968 the Funk family leased us a 3-acre eucalyptus grove in the Canyon where we formed an annually recurring small town/gypsy camp of artists living in Laguna Beach. The Sawdust Culture was about creating an environment for the public to view; within a concentrated time and space, a dazzling variety of artistic forms and expressions in an emotional environment where the art is actually produced.
"Rustic, funky, charming and brimming with the oddest collection of individuals you'd find anywhere. It was a true happening." – Jay Grant
With over 160 artists demonstrating their ideas transformed into works of art, the 1970's assured the Sawdust Festival's place in the Laguna Beach art scene. Eventually purchasing the property we occupy today, by 1976 we had become a true destination with many artists on a waiting list to exhibit. In 1979 it became clear that it was time to build some infrastructure with a permanent fence, restrooms and other buildings planned.
"It was 1975 and "streaking" was a fad. A few of us decided we were going to streak. It was scary but freeing as we ran the grounds without a stitch on. I remember rounding a corner having to jump a baby carriage. It was fun and a true Sawdust Happening." – Marla Burns
Laying the foundation
1980's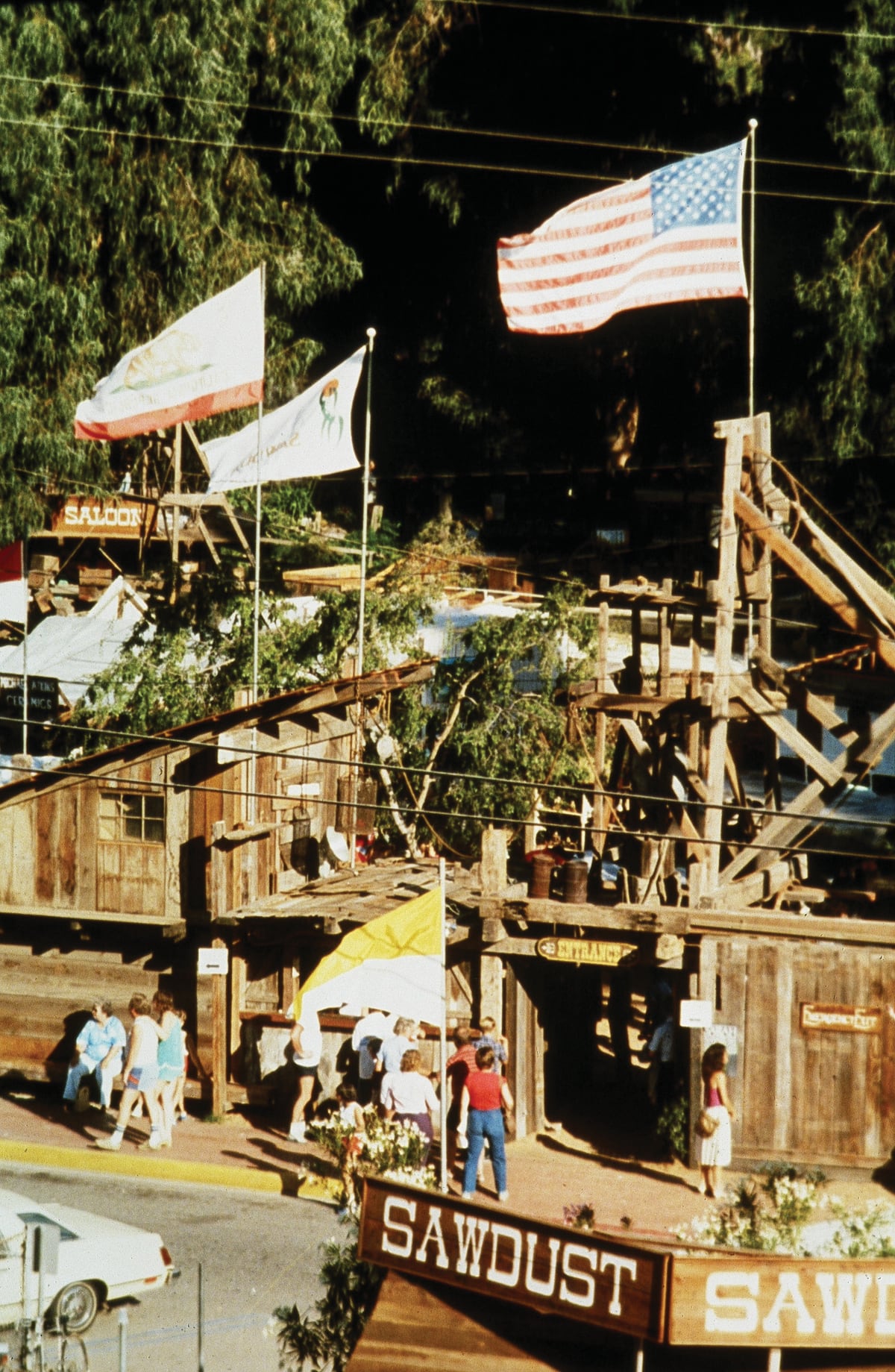 The 80's were prosperous years. Growth of the Sawdust Festival began to necessitate full-time staff and permanent structures into the 1980's. The artists established more comprehensive by-laws and show rules to govern themselves. During the '80's, dramatic and towering facades were created every year, reflecting the courage and originality of the pioneer artists who dared to be different.
"I look back in amazement at what we, the artists and craftspeople of the Sawdust Festival accomplished. I can't help but feel a little pride. The artists now own the precious eucalyptus grove where the sawdust is located, and I was a part of the birth of our show" – Harvey Kaplan
Expanding Our Reach
1990's
In 1991, after almost 20 years of discussion the Sawdust Festival Winter Fantasy was established as a holiday-themed art festival wonderland. The '90's proved to be a turbulent decade as many of our Sawdust artists were in crisis responding to a terrifying firestorm and huge mudslides in the canyon which consumed many artists' homes and studios. Thanks to Sawdust visionaries, The Sawdust Benevolence Fund had been created and quickly rallied to help artists in need.
"In 1989, seven Sawdust Festival artist's formed an eclectic all volunteer Committee with little to no budget.  In the 2000's it morphed and grew into a beautiful outrageous magical winter fantasy show which everyone wants to be a part of today. Our Mascot, "Jelf" was part jester and part elf…we needed all the help we could get!" -David Nelson
The Sawdust enjoyed some banner years in the early 2000's, and endured the economic collapse of the late 2000's. With an eye on Local impact and a commitment to educating the public about Art and the local artists; Sawdust began development of year-round arts programs, Sawdust Art Classes offering hands-on art projects during both summer and winter festivals and the Sawdust Art Enrichment Fund supporting philanthropic art programs and outreach to local schools.
Building the Future
2020 & Beyond
When we look to the future, we know that Art is essential. Art lifts our spirits, affects our emotions and is a form of expressing our sense of Self. Art influences society and has always been crucial to our development. Sawdust Art Festival is and has always been an experience. The artists and their wares are only half of the experience. You are the other half. Whether you are a tourist from across the globe, or a local collector, you are part of the exhilarating experience which is the Sawdust Scene. Thank you and the hundreds and thousands who attend the Sawdust each year. We look forward to welcoming you and joining together in creating an artful future for generations to come.
"One of the nicest aspects of the Sawdust Festival from the exhibitors' viewpoint has been how safe a place it has always been for little kids. As an annually recurring small town/gypsy camp, the Sawdust has kept the kids entertained and interested. The Sawdust effect on children has been civilizing and socializing unto what has now moved into a third generation" – Dion Wright