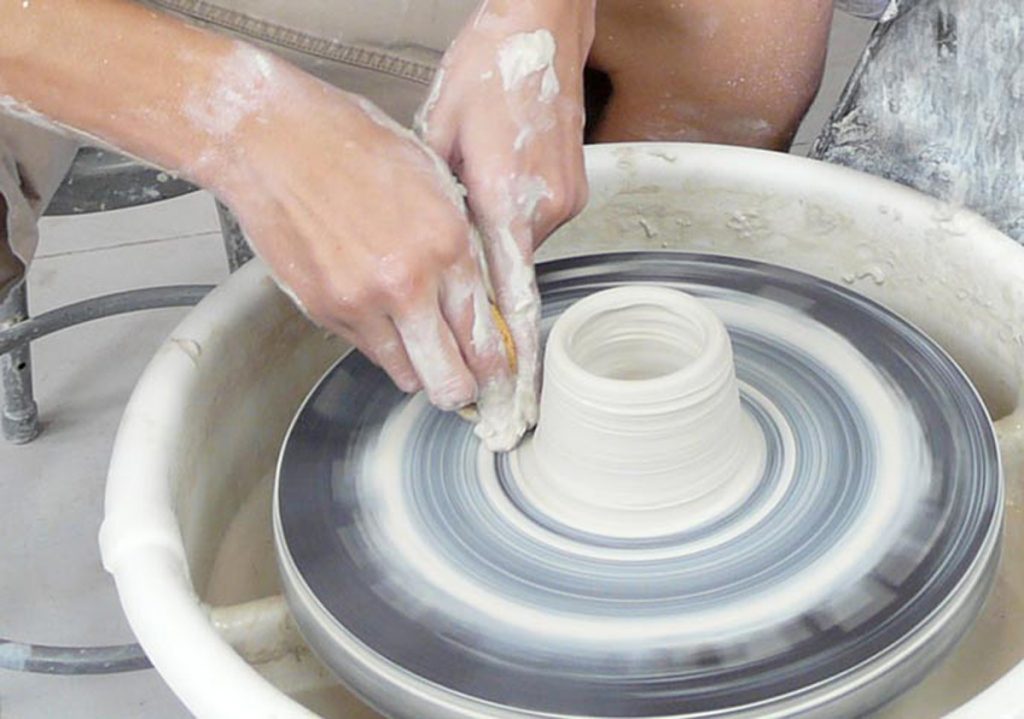 Class Information
Have you ever wondered what it would be like to sit at a potter's wheel and actually throw a pot! It's one of our most popular classes here at the Sawdust during Festival time and now you can experience it in a small class setting, in our Ceramics Studio, with long term Sawdust exhibitor and Ceramicist, Robert Jones. With over 35 years' experience of working with clay, Robert has spent much of his time teaching, and thoroughly enjoys sharing his craft.
Robert will take you through the process step-by-step, allowing you to gain confidence so that, with his help, you will make your own pottery pieces on the wheel. Each student will make approximately 3-4 pieces that he will then fire and glaze in his own studio so that you will end up with a beautifully glazed mug or bowl which you can truly call your own! Please note, the firing and glazing time will take approximately 3-4 weeks before ready to collect. If you wish your items to be mailed, there will be an additional cost to cover postage and packing.
Absolutely no experience is necessary to take this class, however closed toe shoes and casual, comfortable clothing recommended. All materials are included in the cost.
Price
$100.00 per student (there may be an additional charge if you wish to have your items mailed). Please note that this is a small, group class that will take place in a heated, covered outdoor studio.
Dates
Saturday, April 29, 2023 • 11am OR 1:30pm
Saturday, May 6, 2023 • 11am OR 1:30pm
Saturday, May 13, 2023 • 11am OR 1:30pm
Saturday, May 20, 2023 • 11am OR 1:30pm
Saturday, May 27, 2023 • 11am OR 1:30pm
Saturday, June 3, 2023 • 1pm
Saturday, June 17, 2023 • 1pm
Saturday, June 24, 2023 • 1pm
---
Ready to take this class?
Meet the Teacher
Robert H Jones
The horse hair ceramic technique originated with potters of the Yellowcorn clan of the Acoma Pueblo in New Mexico. In the "horse hair" process, once the piece reaches the correct temperature inside the kiln, the kiln is opened and the pot is pulled out very quickly. At that very instant, horse hair strands are gently applied, burning on contact with the hot clay surface. Once the piece cools down, it is cleaned, waxed, and buffed to a smooth ivory like finish. The results are always exciting and dramatic, with no two pieces ever coming out exactly alike. Not for food use and use a liner if using as a flower vase. This horse hair pottery collection is handcrafted in Laguna Beach, Ca. by Jones Ceramics.